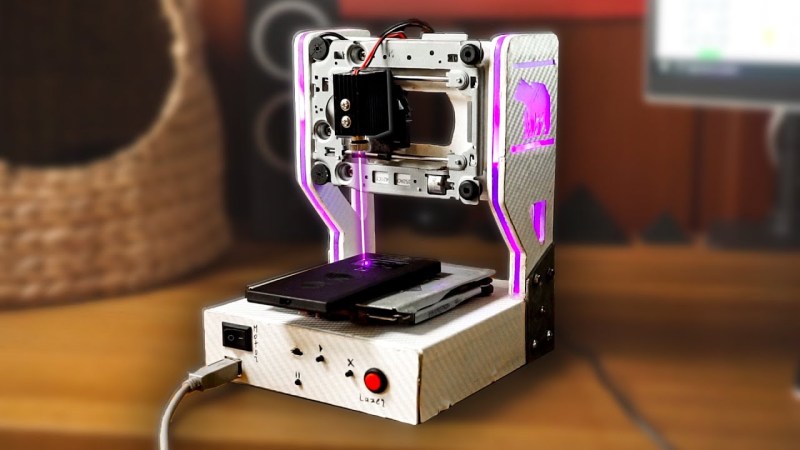 For the last ten to fifteen years, optical drives have been fading out of existence. There's little reason to have them around anymore unless you are serious about archiving data or unconvinced that streaming platforms will always be around. While there are some niche uses for them still, we're seeing more and more get repurposed for parts and other projects like this laser engraver which uses not only the laser from a DVD drive, but plenty of other parts as well.
The build starts with a couple optical drives, both of which are dismantled. One of the shells is saved to use as a base for the engraver, and two support structures are made out of particle board and acrylic to hold the laser and the Y axis mechanism. Both axes are made from the carriages of the disassembled hard drives, with the X axis set into the base to move the work piece. One of the lasers from the scavenged DVD drives is fitted to the Y axis with a new heat sink, and with an Arduino set up to interpret gcode the device is on its way to engraving any material that will fit into its diminutive frame.
While the build repurposes almost all of the parts from the optical drives, it does stop short of using the drive motors in favor of A4988 stepper motors. It's also not quite powerful enough to engrave wood, but other materials like leather are right in this machine's sweet spot. If you have plenty of drives on hand with nothing else for them to do, there's plenty more they can be used for. This scanning laser microscope is among the more interesting builds we've seen.