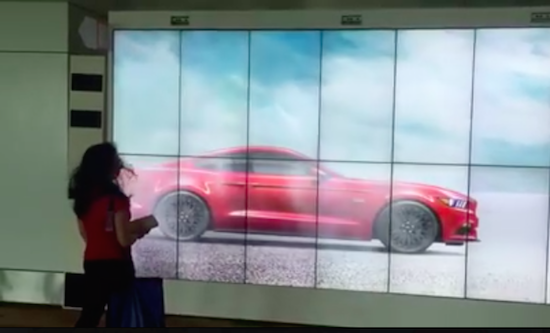 Although digital billboards may be nothing new; a marketing campaign by Ford is taking them to a whole new level. Created by Kinetic Worldwide, the automaker has created a 'sensorial' experience that blows air and smoke while emitting the sound of an engine as a person makes their way past the advertisement.
Installed at an airport in India, the billboard features a red carpet which is connected to a large screen via an Arduino. Whenever a traveler approaches the carpet, it triggers the wind, the noise of a revving Mustang engine, and for some of the ads, artificial smoke.
Sommnath Sengupta, creative director at Kinetic India, tells The Drum that more immersive experiences can lead to greater ROI:
First and business class travelers come with a mindset of luxuriating in a personalized experience. Our creative concept is a sensorial statement of power that speaks directly to and resonates with this audience. By contextualising the experience of driving a Mustang through dynamic content and technology, Ford has already seen an increase in potential buyers requesting test drives.
See it in action below!