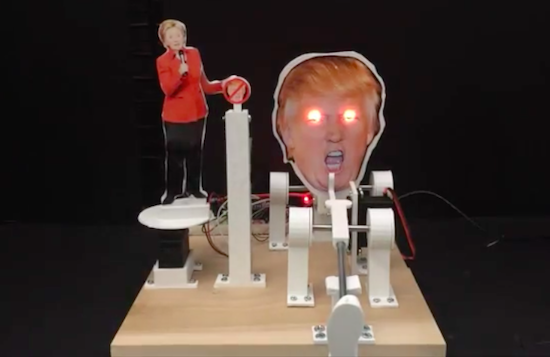 No matter which candidate you will be voting for in November, it's hard not to chuckle a bit when seeing this project from YouTuber "Makers4America." The IoT machine works by responding to tweets from presumptive Republican candidate Donald Trump and then proceeding to kick him in the face with a 3D-printed boot attached to a metal rod.
The setup is fairly straightforward: a Raspberry Pi running Node-Red and a local Mosquito MQTT broker poll Twitter, and then writes the tweets to an MQTT topic. Meanwhile, an Arduino MKR1000 runs an MQTT client subscribed to the same topic, and controls the servos and RGB LED strips reading "Dump Donald." 
Although this project targets Trump, it's hard not to imagine other use cases for such a device–one in which includes the face of your arch nemesis, a rival sports team, or perhaps even your ex. The possibilities are endless!
[original story: Arduino Blog]